Cane
Riccardo Nannini a.k.a. Cane (Italy, 19/11/1980) is a self-taught painter based in Barcelona that began his artistic production as a way to express his peculiar point of view with total freedom. Going through many different phases, Cane has recently developed his story-telling ability into more elaborate artworks, with many different influences as the italian masters of comic Andrea Pazienza and Benito Jacovitti, the flemish painters Bosch and Brueghel to the contemporary pop-surrealism. His street art activity brought a fresh fun vibe to his way of perceiving art and the world, and opened doors to many different projects, commissions, collaborations with galleries and events around Europe.
His latest projects included an artistic residence at Centro de Arte Mutuo in Barcelona even though at the moment his focus is on street art.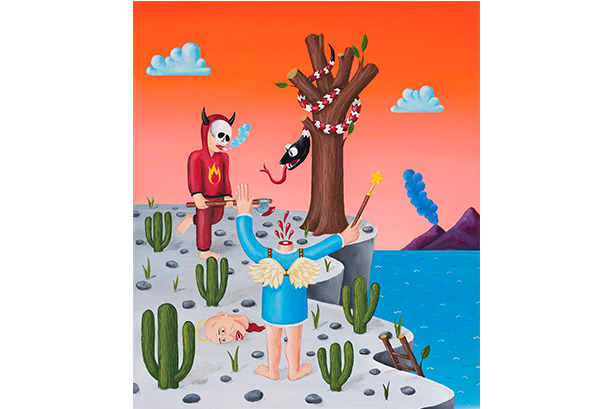 ---
Obra
En general el contexto de mi obra se sitúa en ultramar, ese espacio lejano, un mundo particular regido por sus propias normas. Esta obra es mi particular visión del jardín del edén, representado con sus elementos, como la serpiente o el ángel, pero tratado desde una perspectiva irónica. 
Dimensiones: 50x61 cm
Técnica: acrílicos sobre lienzo
Año: 2016
---
Expuesta en:
Visiones de Ultramar 2018
Contacto