Paty Salas
Bailarina mexicana, apasionada y versátil. Desde la primera vez frente al público con un músico callejero en la plaza de la ciudad a los 3 años de edad, no ha habido vuelta atrás. La danza, en todas sus facetas y latitudes, vive en sus días, en el mundo de afuera, en el mundo de su cabeza. Es testigo de que la danza nos une y nos hace mejores personas. Para ella la danza es a la vez manifiesto y olvido, ligera y fuerte... así como exige, así mismo nos hace volar. 
Graduada como ejecutante profesional por Imperial Society of Teachers of Dancing en 2015, Paty ha bailado en su México en ciudades como Guadalajara, Puerto Vallarta y en la Riviera Maya, tanto en producciones teatrales por temporada como en compañías, siendo Dance Captain en 2018 para un Resort en la Riviera Maya. 
La vida de la danza la ha llevado a ciudades como Nueva York y ahora Barcelona, siempre abrazando lo que es bailar con la gente en otros países y técnicas, y siempre confirmando así que el arte es infinito y mundial y que en sus mil lenguajes, seguro también la danza te dice algo a ti.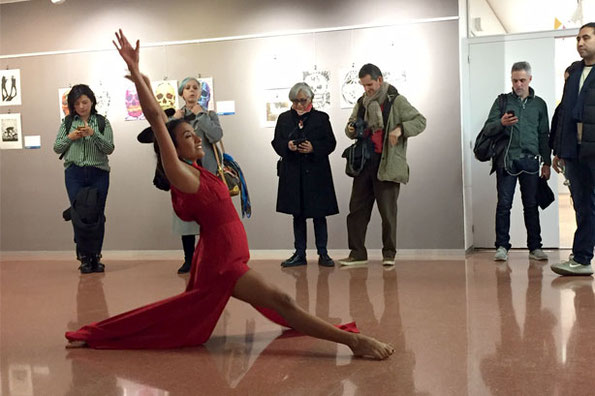 ---
Inauguración Exposición "Gravats de Oaxaca"
---
Berelele - Alcarabán
"Somos zapotecas, gente que ama sus orígenes.
Los zapotecas antiguos "gulá za" se llamaron,
Amaron al sol, al águila y al jaguar.
El sol iluminó todos los caminos que anduvieron 
Y alumbró las grandes obras que hicieron.
El águila les enseñó a rasgar el aire
A elevarse y subir hasta lo más alto del cielo.
La temeridad y los combates aguerridos
El jaguar se los enseñó y se les quedaron esos dones.
Las aves que surcan camino al cielo
También fueron amadas.
Con el aroma de las flores, aquellos abuelos
Melodías muy hermosas compusieron 
Las cantaron y las bailaron sobre el viento,
Sobre las nubes, sobre sus sueños.
Así se construyó la hermandad que acostumbran
Tener los zapotecas actuales
Gente que ama sus orígenes."
"Poesía de los zapotecas". Enedino Jiménez
Una de esas aves amadas fue el Berelele, y hoy baila sobre el viento, las nubes y los sueños.
Contacto